In His kindness God called you to share in His eternal glory by means of Christ Jesus, so after you have suffered a little while, He will restore, support, and strengthen you, and He will place you on a firm foundation.

1 Peter 5:10 (NIV)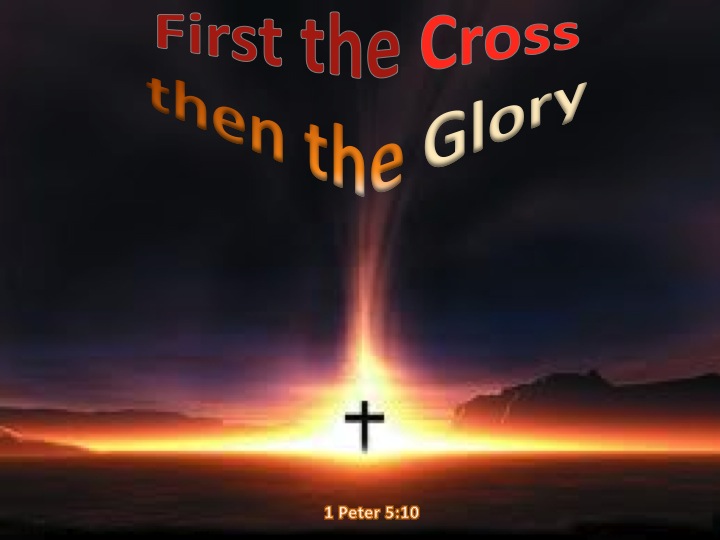 Thoughts on Today's Verse
We discover the elderly apostle Peter, who denied His Lord at the start of his Christian walk (for fear of his own safety) –  come to an understanding at the close of his earthly sojourn, that after the cross, with its humiliation and sufferings, there is an eternal weight glory. During the course of His life Peter came to see that after we have experienced suffering for a little while, God in His grace, will Himself perfect and confirm us – He will strengthen, support, restore and establish us.
Suffering with Christ is simply the portal, which translates His blood-bought believers into His eternal joy, where as sinners saved by grace, we will greatly rejoice with all of His saints in heaven. Although we are in the world we are not part of the world and the Lord Jesus, on the same night that He was betrayed, prayed for his followers. He did not pray that God would remove them from the inevitable sufferings of this world, but that He would keep them safe in this age, as they journeyed through their earthly path.
Peter in like manner had come to understand that weeping may last for a night, but joy is certain to come in the morning… first we must bear the cross but then we will wear the crown. Peter's prayer was that Christ's followers would be firmly established, in both faith and duty, despite the difficulties that would inevitably arise in their lives – for Peter knew that all those called by God's kindness and grace will one day partake in His eternal glory and joy.
Peter knew that those that are to be heirs of the kingdom and joint-heirs with Christ, must first suffer for a little while. But he also knew that suffering has its eternal benefits, for it establishes, strengthens, perfects and matures the believer, as he grows in grace and perseverance on his journey to his celestial home,
My Prayer
Loving Father, I am overwhelmed by Your kindness and grace, that has called me to share in your eternal glory through Christ Jesus my Lord. I pray that I may walk worthy of You, not shrinking from the firey trial of life, but that through them I will be  established and strengthened in Your Word, with my feet firmly fixed on the Rock of my salvation,  in Jesus name I pray. AMEN
Picture of Snowscape courtesy of Larisa Koshkina
Post your Comments